I went to the London MCM Expo this Saturday and took my pre-ordered copy of DramaCon ultimate edition down to have it signed.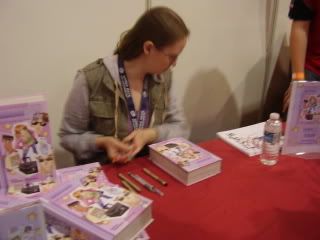 My picture of Svet isn't as good as the person who posted before me, I'm afraid (great picture Pantheria!).

I was the person who started the queue, and thus the first in the line to get my book signed. (Hehe, yes, I really am obsessed enough to start queueing an hour before she was due to turn up). It was worth the queue. she did a cute little doodle in the front of the book and was really very friendly (though she seemed more than a little nervous!)

I took down a gift for her too. This little fimo Matt doll earned me a hug from Svetlana :)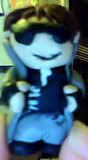 The guy from TokyoPop who supervised the signing was explaining that they hadn't expected so many people, and that they'd nearly sold out of books! (and they still had another signing the next day :O) They'd had to put in an emergancy order of books before hand, and still they were selling out. Svetlana's just too popular for them to handle!